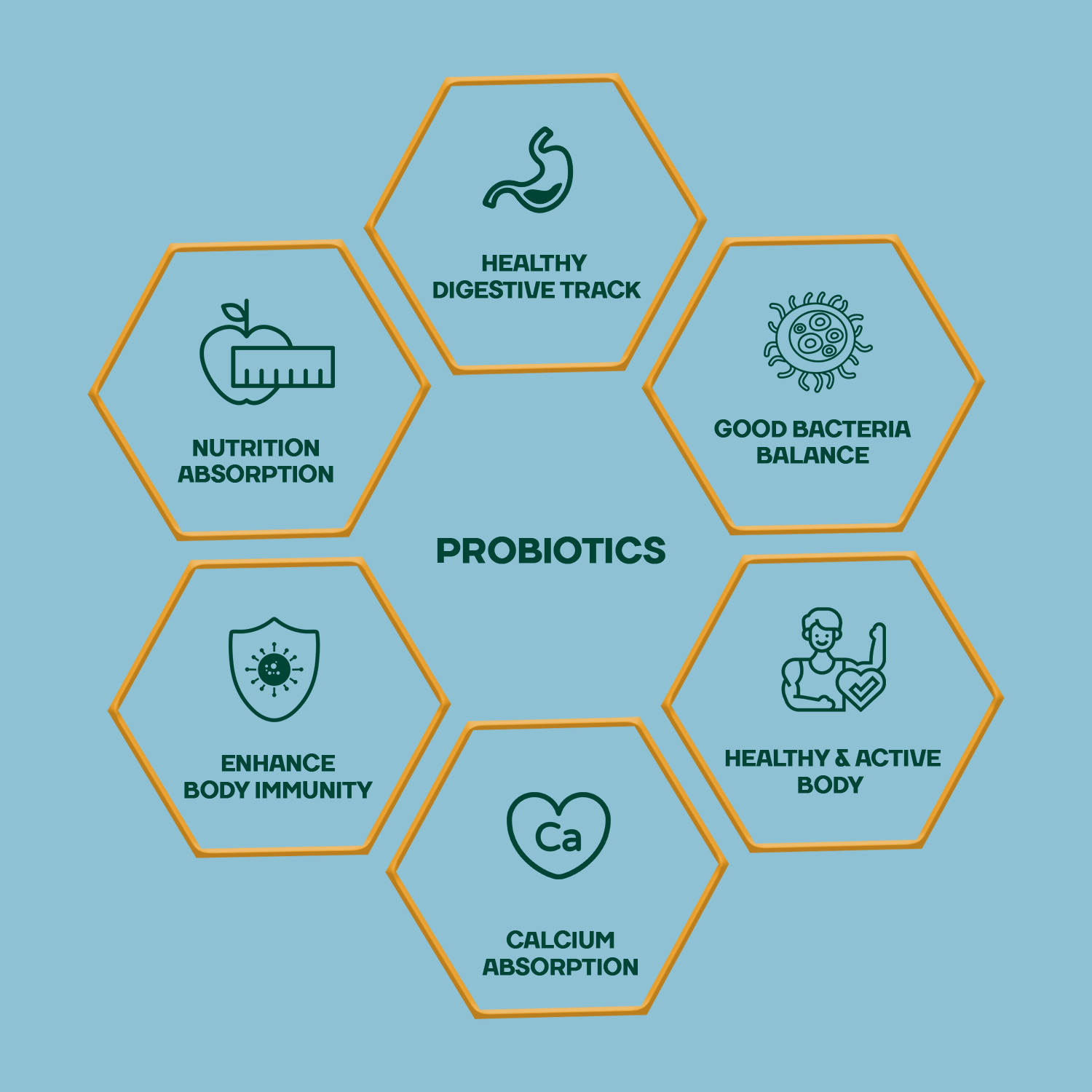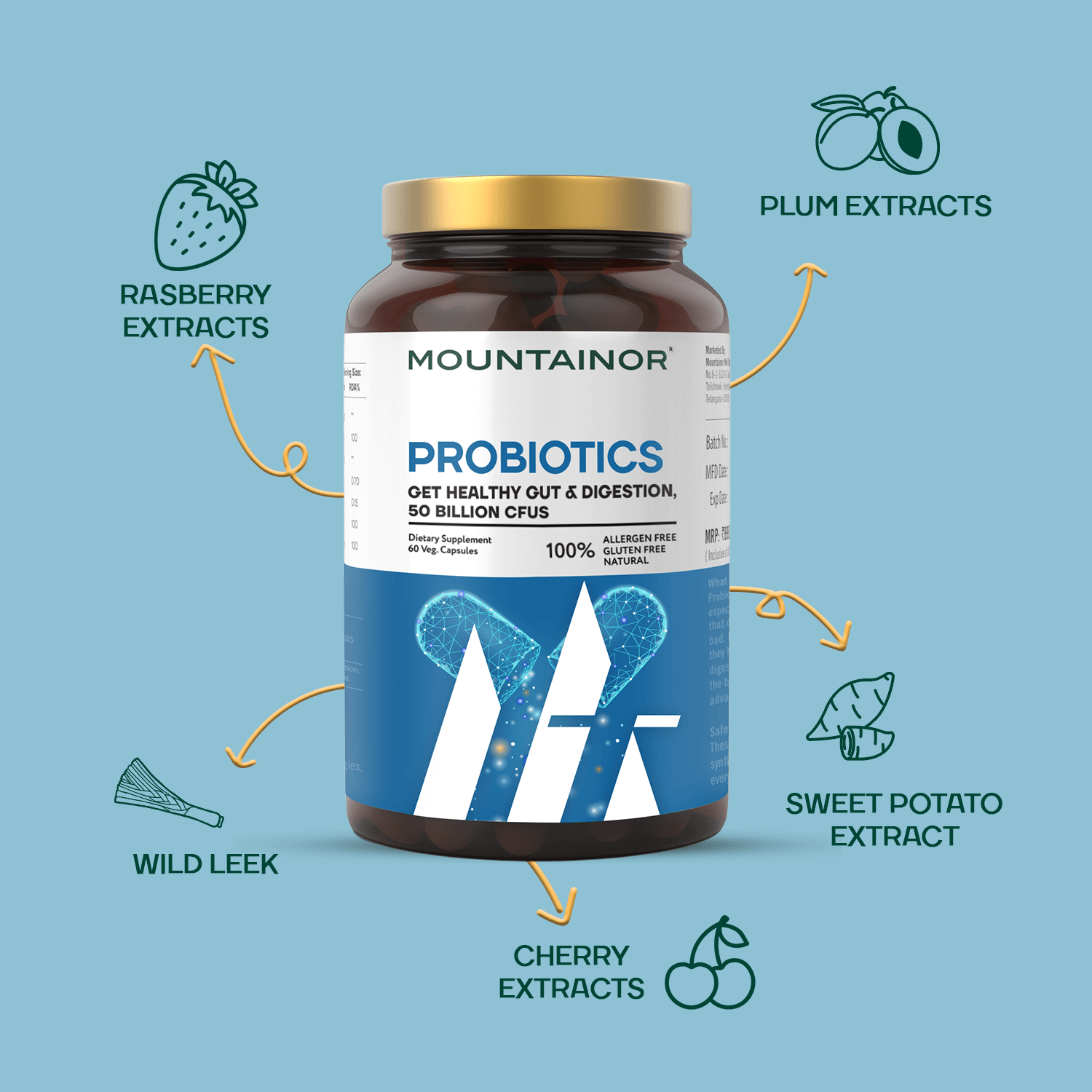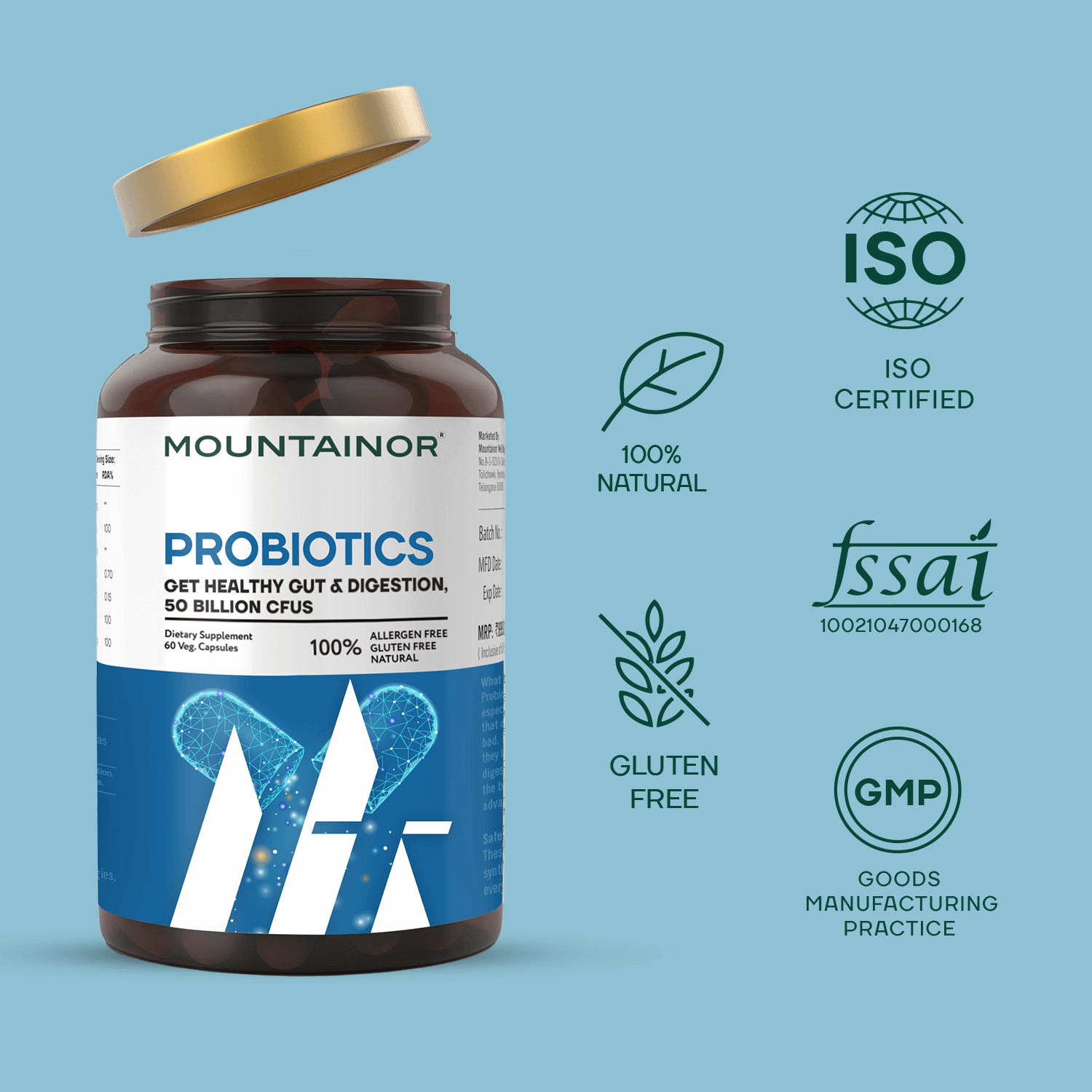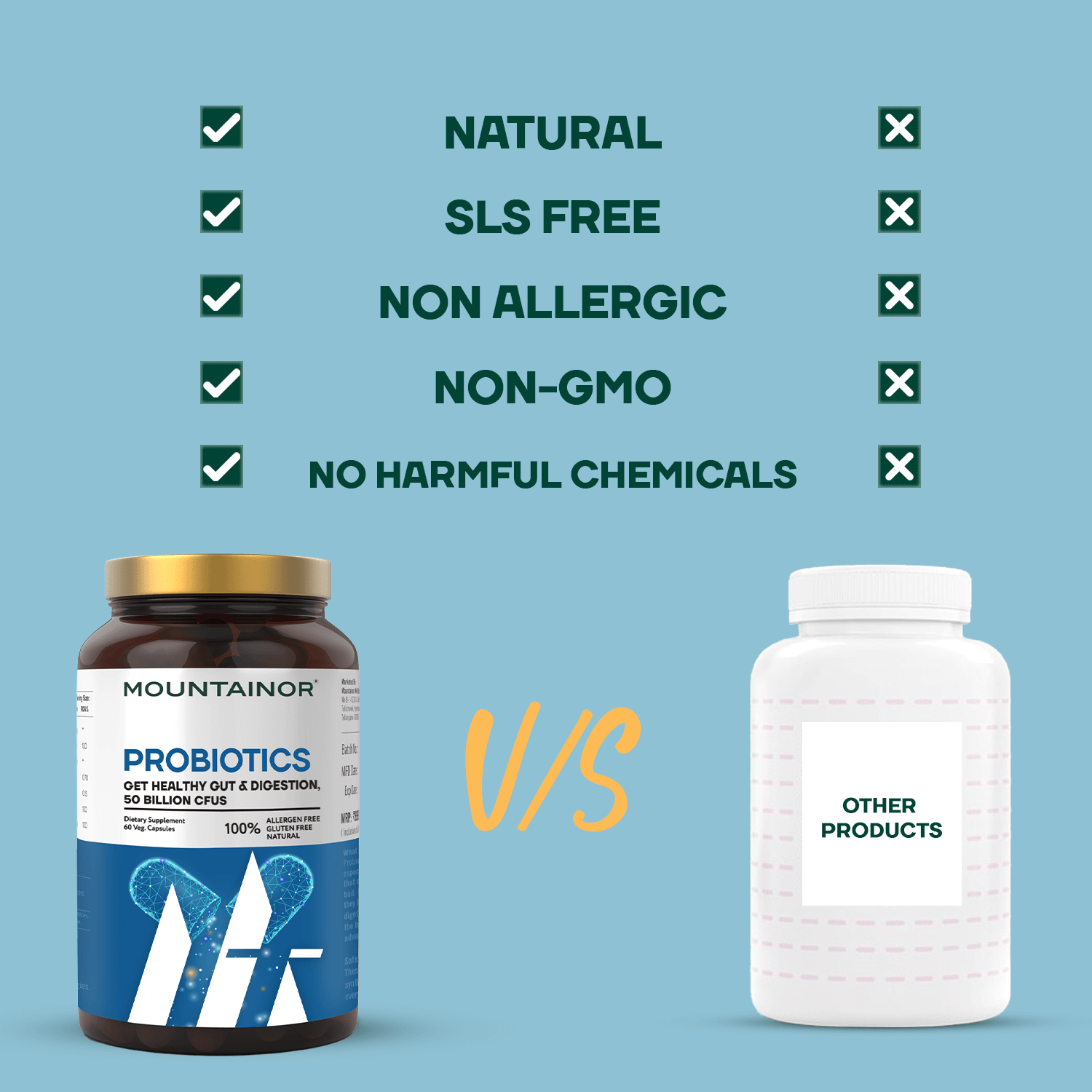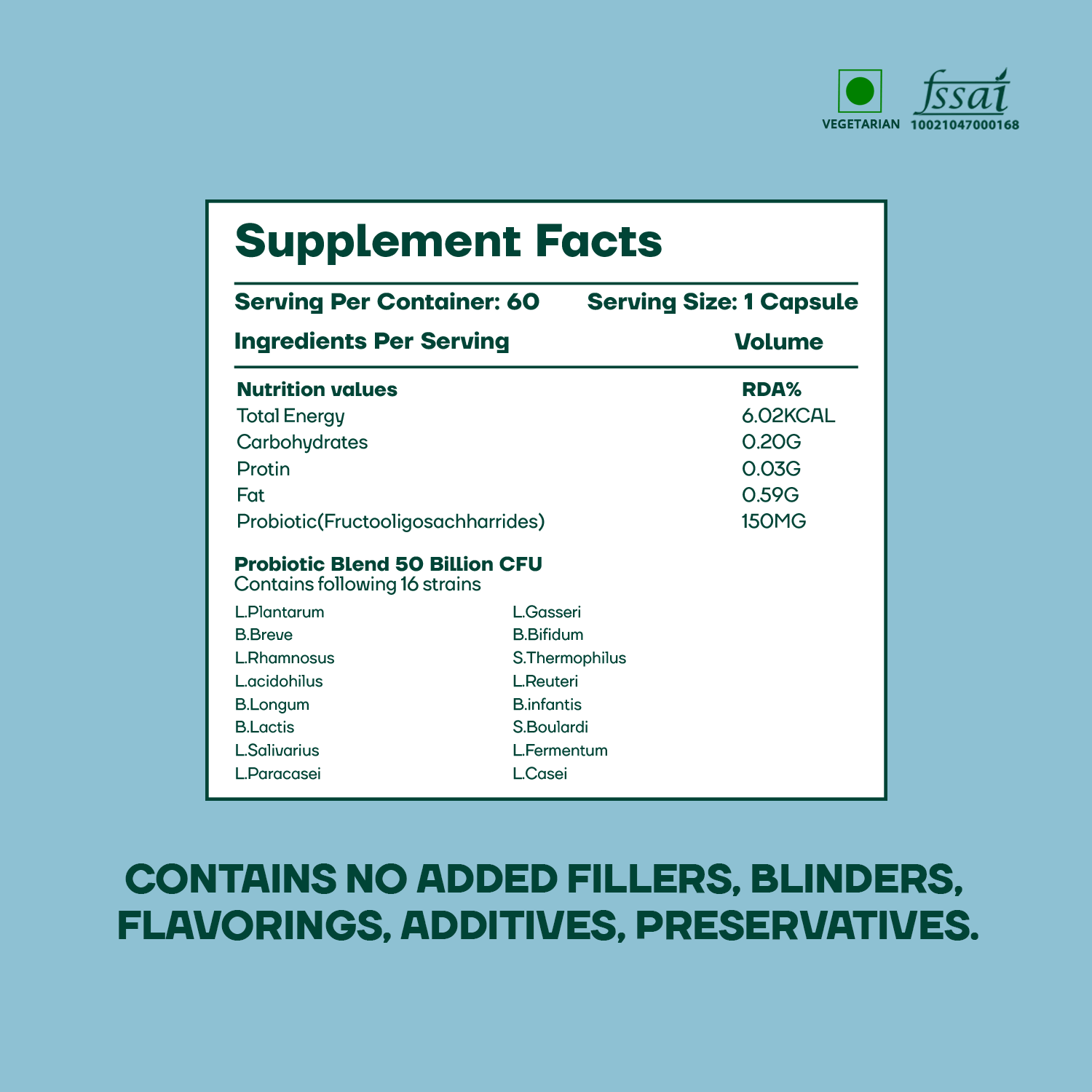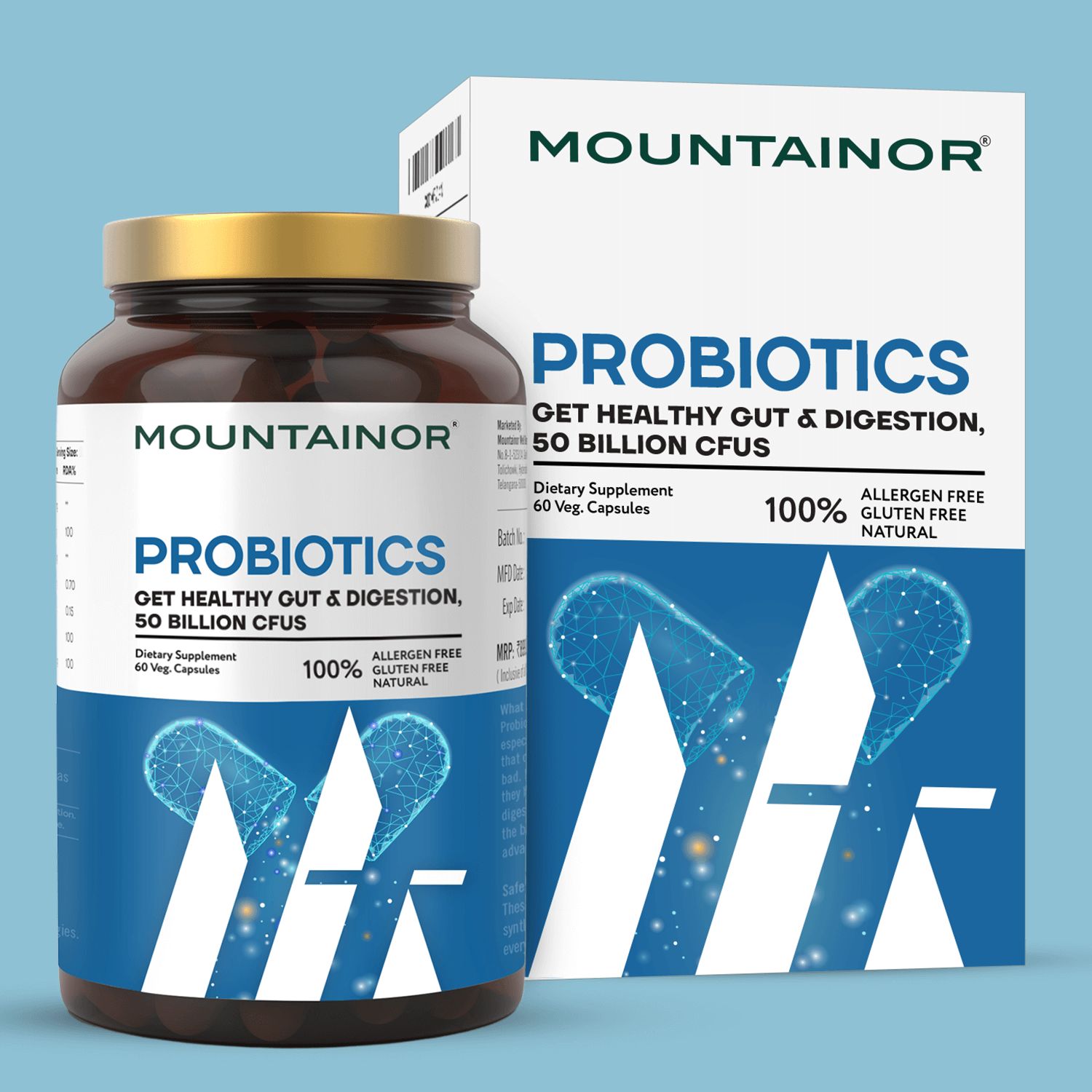 Probiotic Capsules🧬👩🏻‍⚕️- Immunity Builder for Gut Health - 60 Veg Capsules
Save 33%
Sale price

₹ 599.00
Regular price

₹ 899.00
(/)
Ingredients: 50 Billion Probiotics 16 Strains
Who is ir for: Men & Women
Formula Capsules are the perfect remedy to maximize your immunity, maintain a healthy digestive system, enhance the absorption of your nutrition intake, and maintain an optimal balance of good bacteria within your body.
It is a highly superior active, each capsule is designed to administer the desired results with great efficiency to keep you fit. Made of 50 billion CFU & 16 probiotic strains that are most beneficial for the health of your gut, digestion, and immunity.
Infused with the goodness of Plum, Raspberry, Wild Leek, Jerusalem Artichoke, and Sweet Potatoes to give you the best possible care and results.
Directions For Use: 1 Capsule in the morning, 1 in the Evening with Water after Meals, or as directed by your Physician / Nutritionist / Health Practitioner.
It also supports the production of natural antibodies which boost immunity-inducing cells.

✅ Contains no added fillers, binders, flavoring substances, additives, and preservatives. It is 100% Allergen-Free, Gluten-Free, and Natural.

✅ Maintains Good Bacteria in the Digestive System: Probiotics include "good" bacteria. They are live microorganisms, which when consumed in necessary amounts, can restore the natural balance of bacteria present in your gut.
Our capsule shells are made of rice powder and use natural food-graded color to ensure everything from the formula, inside the shell and the shell itself is completely natural. Thus, making it safe for consumption.
✅ Usage Instructions: For Best Result
take 2 capsules at a time with water after meals or 1 capsule in the morning,1 in the Evening with water after meals, or as directed by your Physician/Nutritionist/Health Practitioner.


✅ Delayed-Release Capsule Technology: These capsules employ delayed-release capsule technology to make sure that the probiotics are protected against the harsh environment of the stomach.
This enables the probiotics to be delivered to the intestinal tract where they flourish and support digestion and immune health.
An imbalance means there are too many bad bacteria and not enough good bacteria. It can occur due to illness, or a poor diet.
✅ Helps Treat & Prevent Diarrhea, Gas & Bloating: Diarrhea is considered a common side effect of taking antibiotics.
It occurs because antibiotics negatively affect the balance of good and bad bacteria within the gut.
Probiotics are popular for their ability to stop diarrhea or reduce its severity.
✅ Improved Gut Health:
Among the 16 probiotic strains present in our formulation, the lactic acid-producing bacteria help reduce cholesterol by breaking down bile in the gut.
Bile is a naturally secreted fluid that is mostly made of cholesterol and helps digestion.

✅ Boosts Immune System: Probiotics provide your immune system a boost by inhibiting
the growth of harmful gut bacteria by maintaining the balance between good and bad bacteria.
Probiotic Capsules🧬👩🏻‍⚕️- Immunity Builder for Gut Health - 60 Veg Capsules
Sale price

₹ 599.00
Regular price

₹ 899.00
Choose options